Accessing Your Software
Whether or not you need to purchase media for software varies based on the type of product you are licensing. For most manufacturers, after your purchase is complete, you will receive a download link to begin using your software. However, some manufacturers require media sets in order to install your software. 
Adobe Licensing
Perpetual (non-subscription based) Adobe purchases require a media disc to begin installation. If your institution is purchasing perpetual Adobe software and does not already own the media disc, be sure to add the media SKU to your purchase with checking out through the OETC Store.
Please contact us should you need assistance adding a media set to your purchase. 
If your institution is purchasing software associated with our Adobe VIP contract, your designated account manager should be able to access the Adobe web portal to deploy your license. If you are unsure of who your institution's Adobe account manager is, please contact your IT department for more information.
For account administrators: Upon making your initial VIP purchase, you will receive an email invitation from Adobe Systems Incorporated inviting your to join the Adobe Value Incentive Plan (VIP), use the "Join Now" action to proceed. Once you have accepted the Terms and Conditions, you will be able to log into the VIP Admin Console. Upon each order's completion, you will receive a confirmation email containing the order summary and license anniversary date. 
Microsoft Licensing
If your institution is ordering Microsoft licensing from the Educational Enrollment Solution (EES) contract, someone within your institution should have access to the Microsoft Volume Licensing Service Center (VLSC), where the licenses will be available after your order has completely processed. To find out who in your organization has VLSC access, please contact your IT department. 
If your institution is purchasing perpetual Microsoft licenses, a media set is required to proceed with the installation process.
To purchase a media set, contact OETC or add the media set SKU to your cart when checking out through the OETC Store.
How to manage license keys in the OETC store
The following steps guide you through the process of retrieving an already purchased license key directly through the OETC Store.
Locating Your License Key in the OETC Store
Go to store.oetc.org.
Click "Login" in the upper right corner.

Log in using your store account credentials (email address and password).

Click on the "Account" menu in the right-hand corner. Navigate to "Software Keys." 
The Software Keys Menu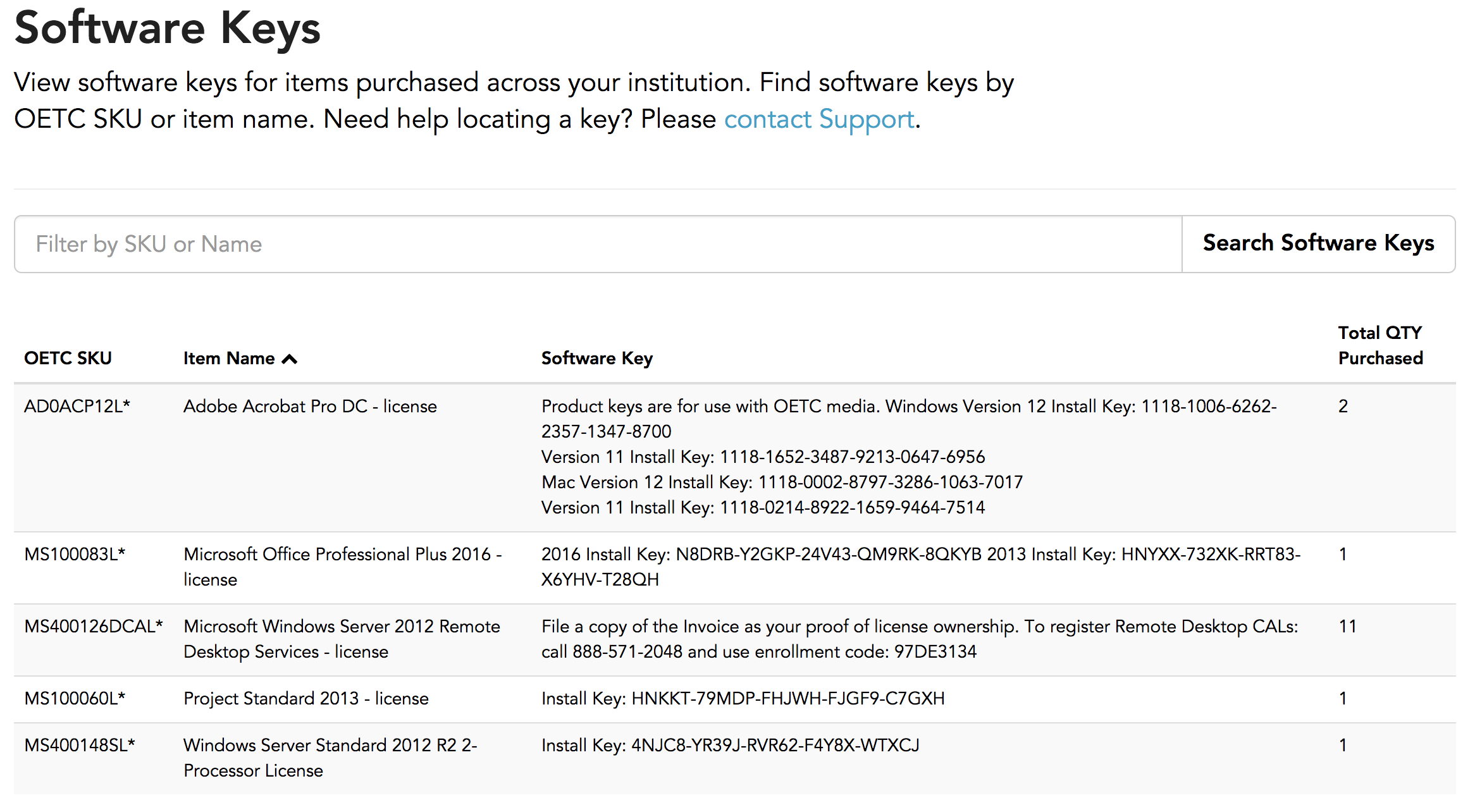 The Software Keys menu allows you to look up keys for items purchased in your institution. Accounts designated as Institutional Administrators can see all software license keys. Authorized Purchasers and Restricted Purchasers can only see software keys for purchases they have made directly.
You can filter your software keys by SKU or by product name.